How to use an extinguisher? KriBa® Basic Mobile trains you to use it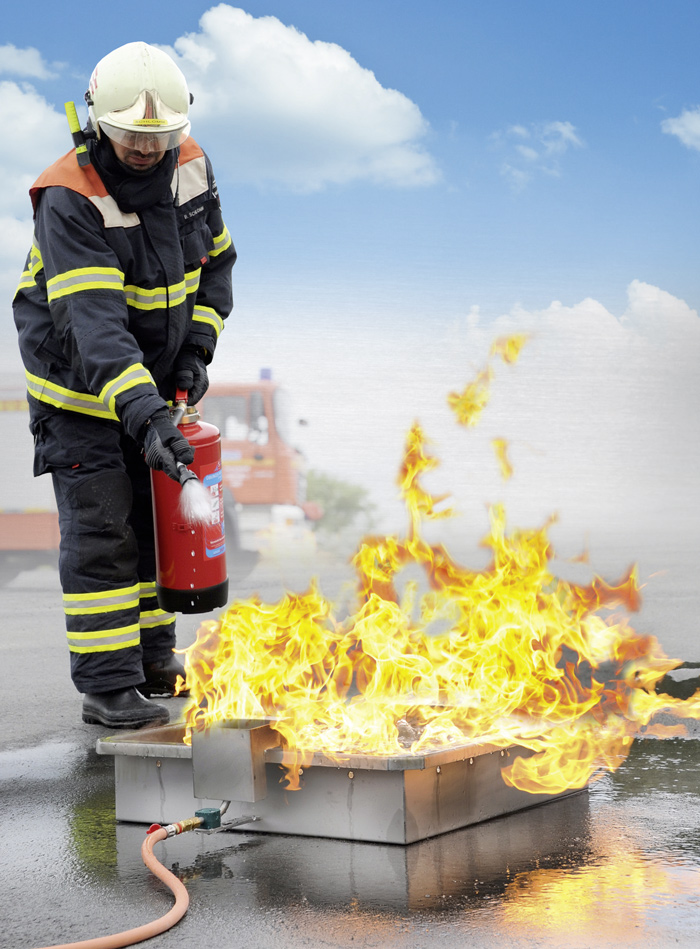 KriBa® firetrainer– mobile and versatile!
KriBa® Basic – basis for successful fire extinguishing training and expandable with all additional modules.
The KriBa® fire extinguishing trainer is ready for use anywhere and quickly because it is operated without vulnerable electronics and electrical ignition.
Companies are required to provide regular fire safety training to employees. Implement ASR A2.2 (Technical Rules- Measures against Fires) efficiently and cost-effectively now.
Reduce fire risks through effective extinguishing training for your employees! Prevent fears and uncertainties in the use of fire extinguishers.
We are happy to advise you and offer you a customized combination of our KriBa® fire extinguishing trainer. You make an important contribution to fire protection in your company through regular fire extinguishing exercises.
Complete with transport rollers, level control and transport handle.
Fire simulations incipient fire, wildfire and liquid fire.
Scope of delivery:
Fire extinguish trainer in stainless steel
safety pressure reducer
3 high pressure hoses
hose failure safety device
Safety shut-off and control valve
pilot burner
assembly tool
gloves and leak spray
Inquire here now
KriBa® firetrainer at a glance
The KriBa® Basic serves as training device for standalone operation and also as base to use all additional KriBa®modules. It can be used to represent surface, incipient and liquid fires. The scope of delivery includes the training tank, the pre-assembled safety hose set, consisting of three high-pressure hoses, hose rupture protection, safety shut-off valve, control valve and the pilot burner. Completed by tools and protective gloves. The fire-sump must be filled with 40 liters of water before use. That´s the reason why the KriBa® operates wear-free and over time more or less maintenance free.

Anyone who has ever extinguished a "real fire" can judge which conditions must be observed. The influence of weather (especially wind) or the different fire behavior of the objects to be extinguished is treacherous. In contrast to devices with electronic flame monitoring, where the participants can outsmart the infrared or thermal sensors by targeted extinguishing, the environmentally friendly KriBa fire extinguishing trainer fights the fire only by the correct use of fire extinguishers. The safety shut-off valve allows the trainer to immediately cut off the gas supply in case of danger or successful extinguishing.